One of the questions we ALWAYS get is, 'but how do you finance your lifestyle?'. Well, on this page you'll read all about it! We have 3 streams of income, one active, one passive and one in between.
After selling our house in the Netherlands in 2018 we invested in a beautiful property on Bali. It's called Villa Oceans and is situated in Canggu (one of the nomad hotspots of the world!), Bali. It's not our home, it's purely an investment property which we rent out for short term rentals to tourists on Airbnb (we're proud Superhosts!). Villa Oceans has 1 apartment and 3 bungalow rooms with their own semi-outdoor bathroom. Together these 4 listings share the pool and tropical garden. You can have a look on Airbnb when you click the buttons below. Feel free to contact us directly if you want to make a booking directly with us and safe yourself the extra fees!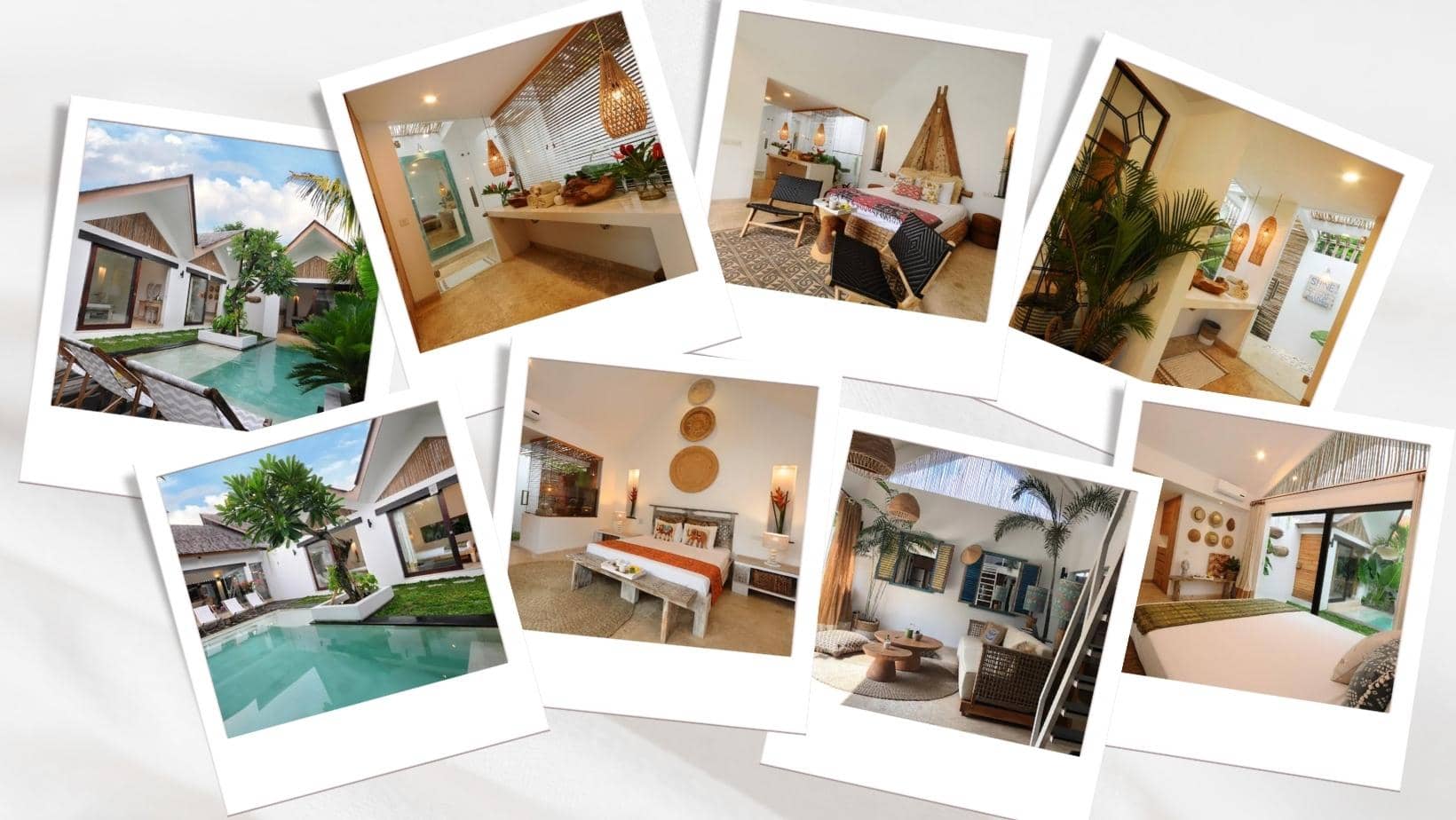 NOTE: Because of the pandemic Bali unfortunately has not been giving out tourist visas since March 2020 (yes that will be 2 years now!) and this has affected this stream of income massively. The market was and is still completely upside down, affecting our occupancy from always fully booked to fully empty at first, price drops to 70% (!!) less and long term rental to break even in 2020 and a big chunk of 2021. Since October/November 2021 we're renting it on short term basis again, but prices are still lower than 50% of the normal rate. Let's hope tourists can come to Bali again real soon to provide the beautiful Balinese people with work again!
*** manifesting tourists being able to come back to Bali ASAP please, not only for us but for this entire beautiful island and it's amazing people ***
Below you can look at our listings of Villa Oceans on Airbnb! Ps. You can also booked directly with us, so make sure to contact us directly to skip the Airbnb fees!
Since the beginning of our lifestyle we got asked a lot of questions, and by that I mean A LOT. So much is unknown about this lifestyle and we hear it ALL the time from people we meet along the way that they wish they can have a 'dream life like that'. (Newsflash! They can, they just don't know it yet ;-)).
So many people are stuck in 'the system' that is called society where people just 'do what everyone else is doing' … and because 'it is what it is' and/or because 'it is supposed to be like this'.
Well, we don't want to live our lives like that. And when you're reading this, you probably don't want to either!
Or maybe you're just curious to read more about it. Whatever you do: do whatever makes you happy. Whether that's living location free, living nomadic, or living on a fixed location for many years and enjoying 2 holidays a year. You do you okay? Just promise you make your best life happen, whatever that looks like for you!
But, if you want more freedom in your life, while doing what you love, when you want to and where you want to… know that it's possible for you too!! We believe that everyone – as long as they are willing to CHANGE things – can live a beautiful one of a kind location independent lifestyle if they want too.
Therefore I, after years of running another online business in personal development, founded my business 'The Freedompreneur Coach' where I share my knowledge, ideas and inspiration with you so you can start to create and live your DREAM LIFE as well. I know my lifestyle design course 'Create your Best Location Independent Freedom Life' will change your life too like it did for many others! Start your lifestyle change right now by joining the course HERE!
For many years Auke has been supporting me in my online business (since 2015). It all started with 'honey, can you help me to figure out how I can make this automation work like this or that?', or 'can you help me change this page on my website?'. Long story short: after working for the Dutch Royal Marines (specialized in communications and instructing) for 14 years he's now running his own freelancing business helping other online entrepreneurs ditch the tech overwhelm while running their digital business. This way the entrepreneurs he works with can focus on their zone of genius, stop losing precious time and skip the tech overwhelm!
He's now building websites, landing pages, sales pages, setting up automations, course or membership platforms, working on funnel and webinar set ups, podcast editing, email marketing set up, and more! You can check out his website, services and packages right here!
Auke's the perfect example of how you can use your skills (not your job itself!) and experience to create a location free stream of income!
So if you think 'but my job is not right to live a location free life': focus on the skills you have, the experience and passion you have instead of staying in the 'job box'. Or, learn something new that gets you enthusiastic and start from there!
Everything is possible!